Come to relax in Relax Center in Cheb. We offer professional Thai massages that are enriching for your entire body. Do not miss foot massage, royal massage with hot herbs and many more. You can also choose from many packages. They alleviate stress, support the immune system, lower blood pressure and many other benefits. Enjoy a Thai massage that has become the healing art of antiquity. Come to relax in our center and take a rest for your body and soul.
Our Vouchers
Gift
with Touch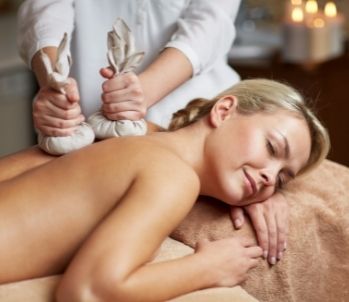 This technique uses special massage bags to relieve stress and relaxation.
Small cloth bags filled with a mixture of 10 types of herbs and grasses with aromatic substances are used.
The application of heat causes increased circulation, relieves pain and softens tissues.
1 400 CZK – 90 minutes
Thai hand and foot massage is an extremely relaxing therapy that can significantly increase flexibility and comfort in all areas that are directly massaged.
Better immunity, relief of muscle tissue, improved joint mobility.
790 CZK – 60 minutes
60 min. | 90 min. | 120min.
850 CZK | 1 250 CZK |1 550 CZK
60 min. | 90 min. | 120min.
950 CZK | 1 350 CZK |1 650 CZK
60 min. | 90 min. | 120min.
990 CZK | 1 390 CZK |1 690 CZK
60 min. | 90 min. | 120min.
990 CZK | 1 390 CZK |1 690 CZK