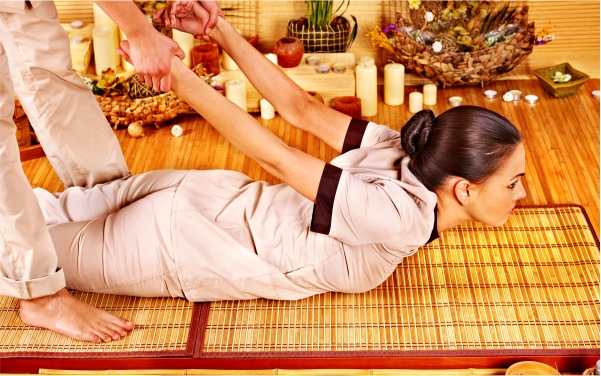 Traditional Thai massage
This world-renowned ancient art of healing involves applying pressure on the body 's energy meridians as well as your veins, muscle tips in order to release built up tension, improve blood circulation, free your body of toxins that gather in tired or overworked muscles.
Here the client wears loose fitting clothes allowing the therapist to manipulate the joints and muscles of your body whilst the client is laid down upon a firm padded bed. No oils are used in this traditional Thai & it is known in Thailand as "nuad phaen boran".
Thai massage with balsam
This Traditional Herbal Balm is perfect for soothing aching muscles & aid quick recovery after sports, relieve muscle pain, sprains, pain in the cold, dizziness. Soothes symptoms of cold and flu and helps to aleviate blocked airways effectively. Thai massage Balm is also used widely in the classical Thai massage.
The massage starts at the feet and gradually progresses up to the head by using gentle flowing exercise movements whereby the recipient's body is moved, loosened and stretched. The energetic aspect of this massage is also focused by acupressure application along the energy lines of the body to restore the flow of energy throughout the body with the purpose to harmonize and energize. It uses menthol ointment and the customer feels a cooling and relaxing feeling.
Classic Oil Massage
This world-renowned ancient art of healing involves applying pressure on the body 's energy meridians as well as your veins, muscle.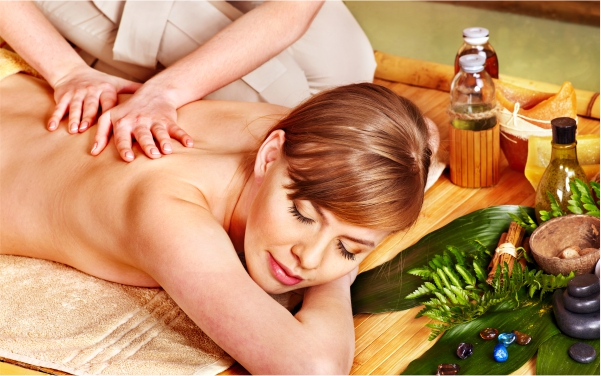 Aromatic oil massage
Thai oil massage contains elements of Traditional Thai massage. It relieves back & muscle pain, joint problems, improves blood circulation, agitates the lymphatic system, strengthens immunity. It harmonises, heals, strengthens the body an. d offers perfect relaxation.
Enjoy an aromatherapy massage to relax the body and soothe the mind A blend of essential oils is mixed with a carrier massage oil for relaxation,clarity of mind, or stimulation. Some massages include an essential oil burner for additional scent.
Hot aroma oil massage
This traditional Thai massage uses warm oil that is heated above the burning candle to bring the energy needed to relax and enjoy the massage itself into the oil and then to the body.
This traditional Thai massage is very popular in the winter, where the body gets hot and prevents fatigue and illnesses that the winter season brings.
Healing Hot Stones
Specific sites on your body to promote relaxation and to help open up the meridians (energy pathways). Muscles are pretreated with the heated stone to allow the therapist to more easily perform deep tissue manipulations.
Hot stones used as a massage tool open & warm the hot stone massage is a style of massage therapy in which water-treated stones are placed at muscle tissue making it more susceptible to the therapy. This form of bodywork involves the use of heated stone applied to the body to relieve tired and sore muscle
Swedish therapy massage
Swedish massage is the most common and most famous type of massage. Includes long, smooth strokes of muscles and tissues with pressure that differs from light to medium to one of the most relaxing styles.
Your massage therapist sets pressure according to sensitivity and preferences. Extreme punches, massage and circular movements on the outer surface of your muscles with massage milk or oil.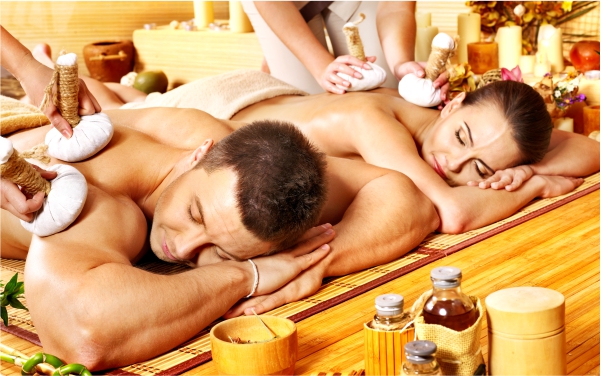 Herbal aromatic massage
This technique uses a special massage ball in massage-specific parts of the body to relieve stress and relaxation, followed by an aromatic oil massage that restores physical and mental balance and has a calming effect. Heat application will cause increased circulation, pain relief and tissue softening.
A small cloth bag is used, filled with a mixture of 10 kinds of herbs and aromatic herbs.
Sports Massage
A no nonsense massage that aims to stretch tight muscles, stimulate inactive muscles and improve soft tissue condition. Sports massage can enable you to move your body more freely with more flexibility and in time can improve your posture.
As the name suggests it is popular with sports people, as it enhances performance, assists recovery and prevents injury. These are benefits we can all enjoy.
Royal Massage with four hands
Four-hands massage, two therapists work on one client, often using synchronized moves. A four-hands massage can be like experiencing two full body massages at the same time. Good massage therapists will use the client's body as a form of canvas onto which they choreograph slow, detailed moves of varying paces and pressures.
There are a number of different styles of four-hand massage. Four-hand massage is generally more expensive than other forms of massage, since two therapists must be compensated for their time and skill.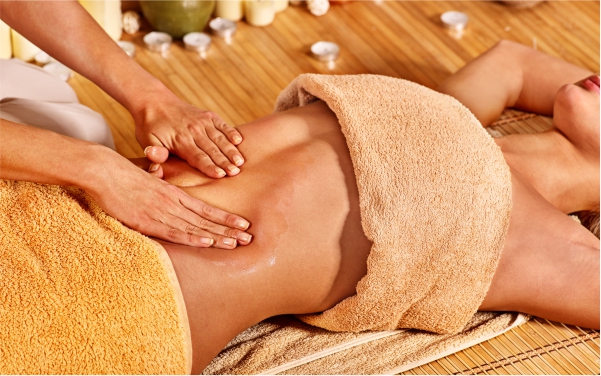 Deep Tissue Oil Massage
Deep Tissue Massage, is a deeper more intense massage. This technique uses slow, deep guided strokes and firm pressure designed to relieve.
Deep Tissue massage is often recommended for individuals who experience consistent pain and soreness in both large and small muscle groups.
Special Back Massage
It relieves tension, relieves headaches. You will feel relaxed and full of energy.
Relaxing Thai massage
It relieves tension, relieves headaches. You will feel relaxed and full of energy.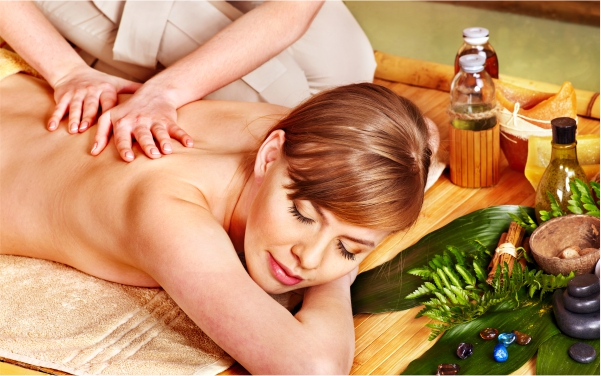 Head, back and shoulder massage
These areas are connected with nervous system. The treatment helps releasing tensions and strains. It removes fatigue and exhaustion after work or travelling. We knead and gently press point which are directly connected with hands, stomach, throat and adrenal gland.
It will bring soothing calmless which prevents stress and emotional problems.